On the evening of May 9, Nanding fans climbed on the billboards to enter Tianchang Stadium (Photo credit: Nanding Nada here)
Since they could not go to the main entrance of the stadium to watch, many fans chose to climb up the billboard in the corner of booth A, jumped over the iron frame and jumped off the platform to watch the game.
At the entrance to the stadium, meanwhile, thousands of fans stood outside. Although there is no Vietnam U23 to participate, but the B group men's football is still very attractive to the people of Nam Dinh, especially the match with Thailand U23.
On the evening of May 9, Thailand U23 welcomed a 5-0 victory over Singapore U23. Around the final 15 minutes of the game, many spectators got up and went home because of the schedule. U23 Cambodia's 4-1 win over U23 Laos happened 3 hours ago and the field is still huge.
Previously, on May 7, Thailand's U231-2 loss to Malaysia's U23 also attracted many local fans to watch. The seats were full, and there were many people standing in the aisle.
In the 31st SEA Games, there will be no tickets for the men's football match in Group B, but will be open to the audience for free. Organisers voluntarily closed the gates when they believed the spectators were just large enough to accommodate the venue to ensure the safety of the game.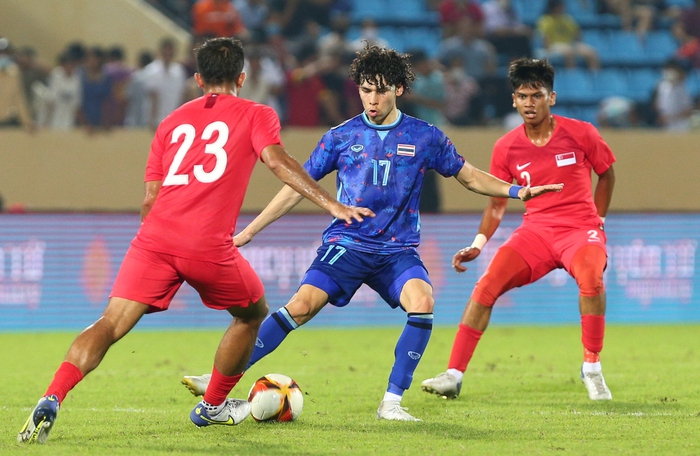 Teams in Group B were all impressed by the vibrant atmosphere created by local fans at Tianchang Stadium. In turn, coaches U23 Laos, U23 Thailand, U23 Singapore all expressed their excitement amid cheers from the Vietnamese audience.
Ms. Nualphan Lamsam, head of the Thailand U23 delegation, actively called on the players to walk around the field and thanked the audience for coming to cheer.
"I was pleasantly surprised to play football for 16 years. I like the football atmosphere here (Tian Chang Stadium). Thanks to Vietnam for hosting the 31st Southeast Asian Games," the Thai female captain shared after the first match.
Mrs. Pang even wanted to hold a press conference to share the issue with Vietnamese media. However, the press conference has not yet been held as the Football Federation of Thailand (FAT) has not yet allowed it.
After the second game of Group B, Thailand U23 temporarily led by 3 points. Cambodia U23 and Malaysia U23 are behind respectively. Although they are both 3 points, they are inferior in goal difference.
https://sport5.vn/cdv-nam-dinh-lieu-minh-leo-bien-quang-cao-vao-xem-u23-thai-lan-thi-dau-20220508115834627.htm