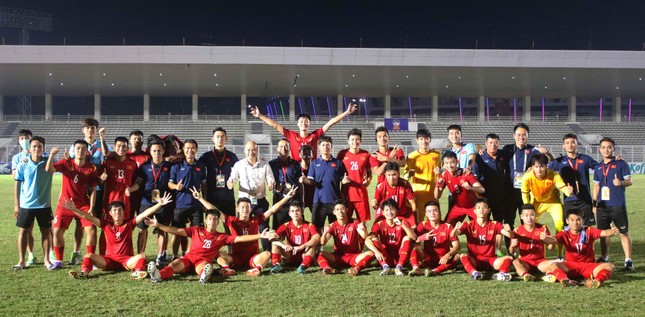 In the last match of Group A last night, Vietnam U19 and Thailand U19 drew 1-1. The result helped both teams go on to advance to the semi-finals of the 2022 AFC U19 Championship side by side, despite Indonesia U19s beating Myanmar U19s 5-1.
The U19 Vietnam team, the U19 Thailand team and the U19 Indonesia team ended the group stage with the same 11 points and faced off directly. However, U19 Vietnam and U19 Thailand advanced as they scored more goals in these competitions. U19 Vietnam is also ranked above U19 Thailand as the difference in goal difference exceeds that of their opponents.
back U19 Vietnam team wins semi-final ticketsActing Chairman Chen Guoduan sent congratulations on behalf of the LDDBVN Standing Committee and wished the team to continue to perform well. Standing BCH also decided to award 500 million to teacher and coach Dinh The Nam.
In the semi-finals, head coach Dinh The Nam's teachers and students will face the second team of Group B (Laos or Malaysia). After 3 rounds, Laos ranked first in Group B with 9 points, and Malaysia ranked second with 7 points. The two teams will compete at 3 pm this afternoon (July 11) to decide the first and second place in the group.
Coach Dinh The Nam said he and the coaching staff will go straight to the final match of Group B to assess the strength of Laos and Malaysia.