After 2 years, finally VBA 3×3 A comeback date with Vietnamese audiences in the upcoming May is also scheduled. The opening of the VBA 3×3 2022 series of events is "Basketball Day", which coincides with the 30/4-1/5 holiday in Da Nang.
Vietnamese basketball fans continue to play 3×3 basketball at the VBA 3×3 2022 event in the coastal city of Da Nang.
Specifically, the competition will be held every day from 8:30 am to 9:00 pm in the area in front of Trung Vuong Theater in Da Nang City. Interspersed with dramatic competitions, VBA also organized 2 shootouts and 2v2 dance competitions. there:
VBA Shootout: Basketball 3×3 professional athlete basketball pitching game. Competitors throw the ball at the specified position for 1 minute.
2 on 2 dance battle: is a free dance competition between community dance groups performing at the VBA 3×3 venue. In particular, the 2on2 Dance Battle event also welcomed well-known judges such as Yoyo, Small Tiger, PS4, MC Saker, and DJ Ben Blue.
Additionally, VBA connects fans as part of a 3×3 "festival" with fun side activities such as free basketball lessons for kids, mini-games, autographs and socializing with friends. Professional athletes … throughout the event.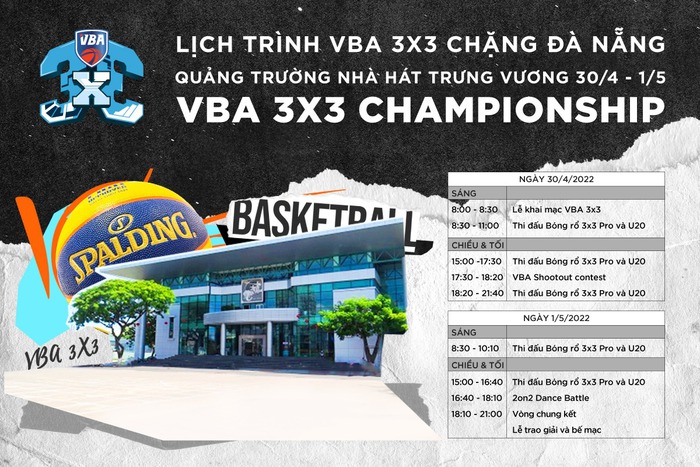 VBA 3×3 will consist of 2 games: Vietnam 3×3 Professional Basketball Championship – VBA 3×3 Pro and VBA Club 3×3 U20 Basketball Championship – VBA 3×3 U20. Both will play in two stages (stop) on the same day.
On the morning of April 26, VBA conducted a group draw with 16 teams in two contents. At each stage, teams will compete to find a champion. During each round, all teams will be scored to rank their performances. The top 4 teams in each stage will compete in the Grand Finals in search of the VBA 3×3 2022 champion.
https://sport5.vn/he-lo-lich-trinh-dia-diem-cung-chuoi-su-kien-hap-dan-cua-ngay-hoi-bong-ro-vba-3×3-2022-chang- Da Nang-20220426164332571.htm