Last weekend, Tyson Fury easily defeated Dillian White in the sixth round to successfully defend his WBC heavyweight belt. In a post-match interview with Bernardo Osuna, the "King of Gypsy" announced that he would retire from boxing, as he and his wife Paris had promised. However, at this moment, UFC champion Francis Ngannou suddenly appeared.
The two were friendly and immediately discussed future matches. Having no interest in boxing, Fury is excited about the scene competing with Ngannou. "If that happens, it's going to be a big deal," Fury said.
Ngannou also quickly said: "We will find out who is the biggest boxer on the planet." According to some sources, Ngannou said he would not renew his contract with the UFC without the terms of competing with Fury. Ngannou has clear and serious moves for a possible "mixed" bet next year.
However, what can fans expect from this game? There are different opinions about this show. Kevin Iole, an expert in combat sports writing for nearly 50 years, doesn't find it funny. "It was a crazy fight," he said.
It's hard to find rules that create balance.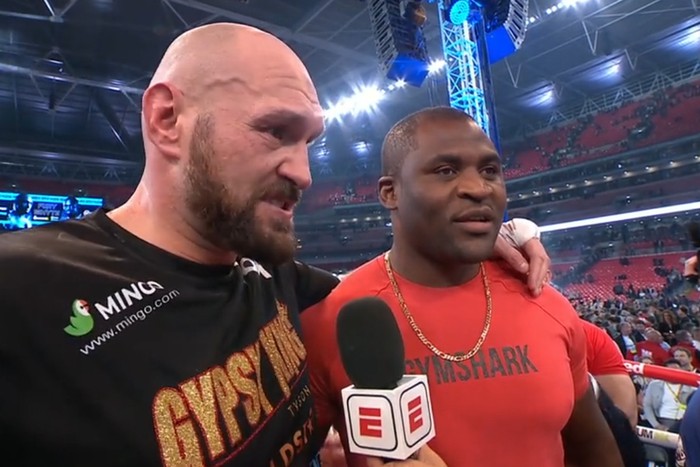 If Fury-Ngannou goes to boxing, the easy victory will belong to the "King of the Gypsy". Fury is currently the No. 1 boxer in the world and has a better physique compared to Ngannou. Ngannou has extraordinary striking power, but in fact the Predator's KO rate is only 70% of his, well below Deontay Wilder's 97%.
If fighting in MMA, Ngannou would have an absolute advantage. Ngannou made significant strides in wrestling against Ciryl Gane in January, making it easy for Fury, who has no experience in the field, to measure the floor. Last month, former UFC champion Demetrious Johnson locked up stand-up comedian Rodtang Jitmuangnon in just over two minutes in a mixed martial arts bout.
In the past, Fury and Ngannou said they could fight according to boxing rules, but needed to wear MMA gloves. This has not changed much from boxing, and Fury is still the absolute overlord. Fury's speed and technique are simply too much for Ngannou.
"Mixed rules games are almost always disappointing and make spectators feel bad," added expert Kevin Iol.
UFC President Dana White is also not interested in these types of fights because he thinks they make little sense. White has only had one fight with his boxer so far. This is a fight between Conor McGregor and Floyd Mayweather in 2017.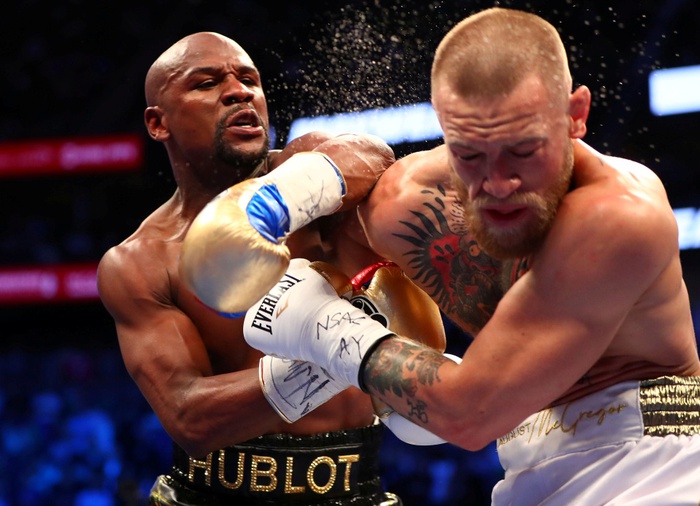 While a big bet, Fury vs Ngannou is definitely nowhere near as attractive as a "billion dollar showdown." In terms of PPV sales, Fury is a far cry from Mayweather. Similar if you put Ngannou next to McGregor.
The winner of the match against Anthony Joshua vs Oleksandr Usyk would be a more perfect fit for Fury in the case of a re-exit. It's a fight that makes financial sense and benefits Fury's legacy in boxing.
Ngannou, on the other hand, is recovering from a knee injury and will miss the rest of the year. If he stays with the UFC, Ngannou will have a lot of work to do. Last week, White said he was targeting an interim title fight between Jon Jones and Stipe Miocic. Ngannou can face the winner of this match when he returns. Ngannou vs Jones is expected to be the biggest matchup in UFC heavyweight history.
Fury vs Ngannou is a very interesting bet, but there are bound to be differences, just like the Mayweather vs McGregor fights before. Is it appropriate for the two to compete in 2023 when both Fury and Ngannou have more attractive bets?
"This match is unlikely to happen. But if both sides play it real, if you pay for it, you feel cheated," Hiole added.
Fury beat White in round 6
https://sport5.vn/cho-doi-gi-tu-keo-tyson-fury-vs-francis-ngannou-2022042620031711.htm